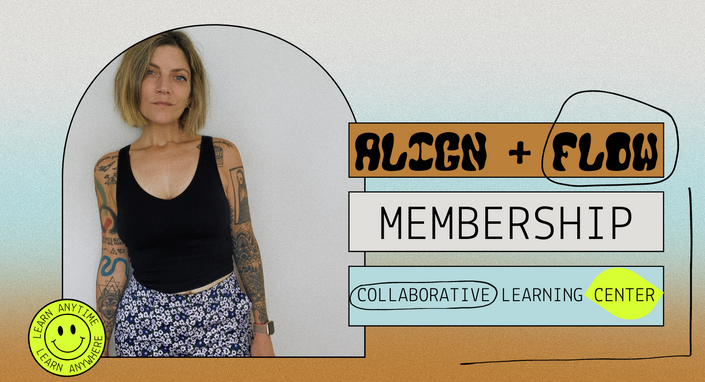 Align & Flow Membership
A LEARNING CENTER FOR SMALL BUSINESS OWNERS, SOCIAL ENTREPRENEURS & INNOVATORS TO LEARN, APPLY AND PRACTICE ETHICAL BUSINESS PRINCIPLES
Watch Promo
Enroll in Course
Building an ethical and sustainable business just got a whole lot more fun!
YOU ARE JUST MOMENTS AWAY FROM GETTING ACCESS TO TRANSFORMATIONAL TRAINING, SUPPORT AND GUIDANCE THAT WILL HELP YOU TO START AND GROW A BUSINESS WITH A CONSCIENCE!
---


Whether you're still working out the foundational aspects of your business concept or you're already an established business but wanting to grow more ethically and sustainably… No matter what stage of business you're in right now, if you desire to do business differently, this membership is for you.
THE ALIGN+FLOW MEMBERSHIP IS YOUR SPACE TO GET THE TRAINING, SUPPORT AND GUIDANCE YOU'RE SEARCHING FOR IN ORDER TO TAKE YOUR BUSINESS TO A MORE CONSCIOUS LEVEL
The Align&Flow Membership was created for individuals who...
HAVE IDEAS FOR A BUSINESS BUT ARE UNSURE WHERE TO START 😑

WANT TO MAKE SURE THE FOUNDATION OF YOUR BUSINESS IS ETHICAL AND ALIGNED WITH YOUR VALUES! 👏

HAVE SPENT TONS OF TIME TRYING TO FIGURE OUT HOW TO GROW YOUR BUSINESS… YOU'RE TIRED OF SPINNING YOUR WHEELS 🎢

HAVE AN ESTABLISHED BUSINESS BUT ARE NOT SEEING THE TYPE OF GROWTH AND RESULTS YOU DESIRE 😒

WANT TO ENTER NEW LEVELS WITHIN YOUR BUSINESS, BUT IN A MEANINGFUL AND IMPACTFUL WAY! 🎉

FEEL OVERWHELMED BY THE TASKS YOU HAVE TO MANAGE AND WANT TO EXPERIENCE MORE BALANCE, ALIGNMENT AND FLOW ✌️

HAVE TRIED MANY STRATEGIES TO GROW YOUR BUSINESS AND YOU'RE READY TO DEVELOP MORE ETHICAL AND AUTHENTIC METHODS 😍

DON'T RESONATE WITH TRADITIONAL APPROACHES TO BUSINESS AND WANT TO TAKE A MORE CONSCIOUS, BUSINESS AS UN-USUAL APPROACH! 😀



Ways to learn inside the membership…
ACCESS OUR RESOURCE LIBRARY 📚 :
We combine self learning with community support by providing members with a large resource library containing Natalie Brite's signature courses and classes as well as member-exclusive resources and trainings that you can dive into right away.Our member resource library contains all the materials you need on topics from starting a conscious business to crafting authentic brand, content and marketing strategies and establishing ethical business growth systems.Learn at the convenience of your own pace and time!
ACCESS COMMUNITY CIRCLES ⭕️ :
Looking for advice and feedback catered to your specific experiences with business? We hold monthly community circles where we collaboratively answer questions, provide individual advice, and learn from one another in a community setting. Our community circles are an incredible way to network, brainstorm, and work through challenges alongside peers while also receiving mentoring support from Natalie Brite.

ACCESS MONTHLY LIVE LEARNING GROUPS 🖥 :
Looking for in-depth training on specific topics within business? Our monthly learning groups have you covered! We teach you everything from conscious marketing strategies, creative content methodologies, ethical service delivery, practical and sustainable business development systems, and much more!Our learning groups act as monthly live classes, where members get the opportunity to request topics to receive a live lecture on!
ACCESS OUR SUPPORTIVE COMMUNITY 📱 :
Our private online community is a place for members to go for all their questions, to receive feedback, to gain support and get to know other peers in a collaborative way. We put priority on creating an inclusive, accessible learning space where members feel comfortable to bring their whole selves to the membership.Our community group is hosted on the MightyNetworks platform, which comes with its own app making it incredibly easy to access without any social media dependency!
This membership will help you to...
➡️ BUILD A BUSINESS THAT YOU FEEL GOOD ABOUT!
At the heart of the Align+Flow Membership is our desire to provide a space for entrepreneurs and business owners to start and grow a business that helps them be the fullest expression of themselves while simultaneously doing work that acts as a force for good. We believe that you deserve to be running a business that makes you feel good NOW as you pursue your desired vision.
➡️ ACCESS AND CONTRIBUTE TO COLLECTIVE KNOWLEDGE <3
How does having constant support right at your fingertips sound?! As part of the membership you will have access to our private community space that is hosted on MightyNetworks. This is a great space for members to be able to ask questions, share your journey, and get advice from Natalie Brite as well as other members.
➡️ ELIMINATE THE GUESSWORK AND OVERWHELM
As a membership, we put great priority on skills development. Our curriculum and member events focus on providing individuals practical processes for developing the core aspects of their business in a way that emphasizes easy implementation paired with authentic customization.
➡️ ENSURE YOUR BUSINESS IS ETHICAL + SUSTAINABLE
Our mission as a membership is to provide practical and implementable training, resources and support to help people start and grow their business ethically and sustainably. So, we take making sure our membership and all that is involved with it is practicing what we preach! It's important to us to help members take approaches to business that feel aligned to their values and unique creativity while also feeling empowered to practice conscious business principles.
➡️ FEEL CONFIDENT WITH THE WORK YOU PUT INTO THE WORLD
We believe that confidence is a byproduct of practice and make an effort to create a communal space that gives members the opportunity to receive feedback, test ideas, explore their thoughts, and be advised as they implement member exclusive trainings. When we prioritize focusing on our process and our skills development, we give ourselves the opportunity to develop self confidence in a way that allows us to fully see our value and its impact it can make on the world.
➡️ TRADE THE BURN OUT FOR BALANCE!
We are all about taking a business as UN-usual approach around here, which means swapping the burn out for balance. The membership puts great emphasis on teaching how to implement conscious and sustainable business principles, which includes replacing growth and productivity obsessed business practices with practices that prioritize rest, pleasure, play, and BEING just as much as DOING. #wearenotmachines
Your Instructor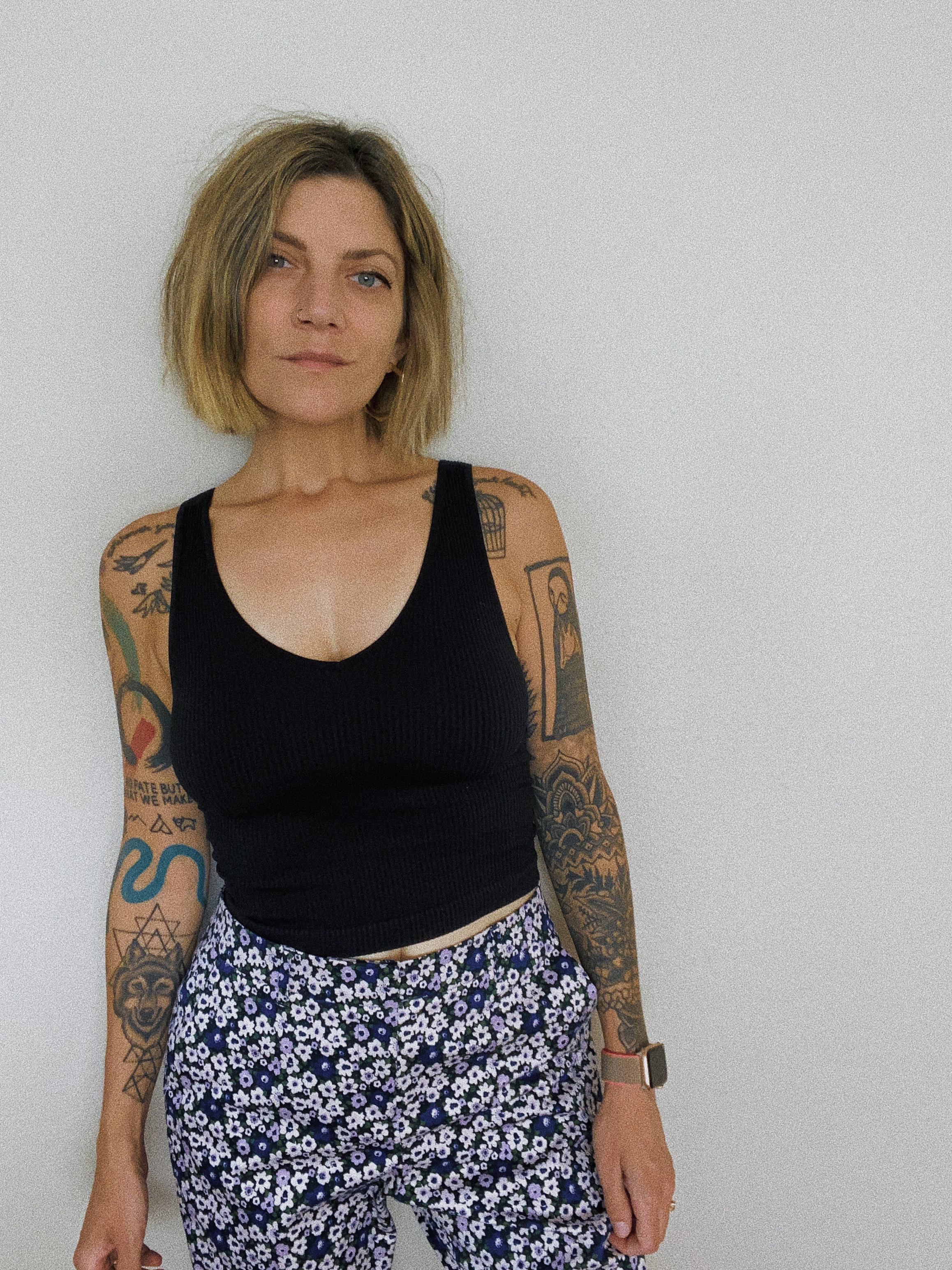 I'm an educator, mentor, writer, and speaker for topics of ethical business and sustainable development. I help individuals start, grow, scale and sustain their creative ideas by specializing in strategic planning and systems integration, branding, marketing, service development and delivery, and social entrepreneurship.
A different world requires a different strategy. Our mission is simple: To support social entrepreneurs and innovators in launching and growing a meaningful business that contributes to sustainable social, environmental and economic impact. We educate, advise, and assist people in developing sustainable business practices that are responsible and conscientious. By empowering people to do work that benefits the whole world, we can contribute to creating long term abundance for businesses, people and the planet.
To learn more about Natalie Brite and her work, visit www.nataliebrite.com
Frequently Asked Questions
How do I access the Membership Portal Content?
All curriculum is accessible via your teachable membership portal. Alongside your membership portal content, you will have access to the private member-only MightyNetworks Community group where there is daily discussions, accountability and support ... alongside monthly community masterminds and live lectures. Emails are sent out monthly to members to share upcoming events and details regarding new content thats released!
How long do I have access to the portal content?
How does forever sound? As long as you are an actively enrolled member, you will have full access to all portal content, including past month content and bonus content listed. *Note: Cancelling your membership will also cancel access to all portal content. This content is copyrighted and non-shareable.
Am I under contract with the membership?
Nope! You can cancel at any time by simply visiting your student settings and updating your information. If you wish to only enroll for specific months that you wish to receive the portal guides, awesome! You can enroll and cancel as often as you wish. Natalie is available for questions whenever you need support in updating your school information or enrollment.
Are refunds available?
There is a 30 day refund policy available through this Teachable-hosted membership. You can learn more about the terms, polities, and conditions of refund policies here: https://support.teachable.com/hc/en-us/articles/219827307-Student-Refunds
When should I expect payments to come out and How do I update my payment information?
You can update all information attached to your membership by simply logging into Teachable account and then going to your personal account settings. https://nataliebritecoaching.teachable.com/ Payments come out 30 days from the date you enroll. It is the students responsibility to maintain their account information and settings. Natalie does not have access to any private account information. *As a member: Turn on marketing emails to receive monthly email information about the membership!
A glimpse of what's inside
The Member Resource Library 📚
EACH OF THE EDUCATIONAL PORTALS CONTAINS TRAINING, CLASSES, RESOURCES, WORKBOOKS, AND GUIDES THAT RELATE DIRECTLY TO THE PORTAL'S TOPIC. THESE PORTALS ARE EVER-CHANGING AND CONSTANTLY GROWING BECAUSE NEW CONTENT GOES INTO THE MEMBERSHIP MONTHLY! AS A MEMBER, YOU ARE GRANTED ACCESS TO ALL PREVIOUSLY CREATED CURRICULUM AS WELL AS ALL FUTURE CONTENT CURRICULUM.
Member Portal Topics Include:
• Personal Development
• Conscious Business Inner Work
• Conscious CEO skills + Planning
• Conscious Branding Development
• Conscious Leadership Development
• Conscious Business Foundations
• Conscious Marketing + Creative Content Strategies
• Sacred Social Media Methodologies
• Community Building + Lead Generation
• Conscious Service Development + Delivery
• Conscious Business Sustainability + Scaling
• Guest contributor training on a variety of topics
• Monthly Energy reports + business guides
Ready to begin your journey with the Align&Flow Membership?
Choose the membership subscription structure that best supports you below!
Psst... 🤫 Have you heard about the premium Align&Flow Membership tier?!
Bump up your membership to premium status with the Small Business Assistant!
The Small Business Assistant acts as your own personal assistant, supporting you with managing all of your small business musts! As a premium member, you get all the benefits that come with the Align&Flow Membership PLUS access to our resource library of templates, guides, and resources that will help you manage your business like a conscious BOSS!